Tassa Mason Cooper
16 days ago
Tassa
mason
cooper

Cleburne County High School
Class of 1992
Teacher at Cleburne County High School
An honor graduate at CCHS, Mrs. Cooper was also a cheerleader captain and UCA All-American cheerleader, Girls' State Representative, and Miss FHA. Her classmates voted her Most Popular and Homecoming Maid. She credits her involvement in SADD, Drama Club, Science Club, Prayer and Bible Club, Pep Club, Beta Club, Tiger Times, FCA, and Student Council for her leadership skills. Tassa attended Cleburne County Elementary School.
She earned a bachelor's degree in secondary education from Jacksonville State University. As a CCHS teacher, her school spirit can still be seen at pep rallies and other school events. She is a pastor's wife. Her husband, Mark Cooper, also attended CCHS. Their son, Sam, is a 2015 CCHS graduate and their daughter, Macey, is a sophomore.
She feels that Cleburne Schools prepared her for college both socially and academically.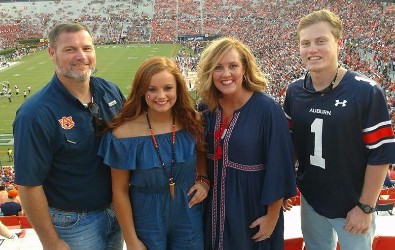 Kimie Meadows
16 days ago
kimie
meadows

Ranburne High School
Class of 2006

Speech-Language Pathologist
Ranburne Elementary School
Ranburne High School
While a student at Ranburne High School, Kimie was president of FCA and RHS Student Council. She was a member of both the softball and basketball teams. When asked how Cleburne Schools prepared her for life after high school, she replied, "RHS provided me with confidence to chase my dreams. They set the bar high and always made sure I knew they believed in me! Mrs. Gibbs checked in on me throughout my college career and still does to this day. My coaches helped instill discipline and hard work. My teachers provided direction and ultimately helped me pick my career".
Her participation in athletics and the friends she made are among her favorite memories of attending Ranburne High School.
Mrs. Meadows added, "I married my high school sweetheart Dustin Meadows and we now have 2 children, Karoline (7) and Landry (2). I am the Speech-Language Pathologist for RES/RHS and all surrounding daycares in our area. My degree allows me to work in multiple settings. In the afternoons, I provide Speech-Language services in the home health setting for individuals with motor speech disorder, neurogenic disorders and swallowing difficulties. My family and I attend Union Hill Baptist Church. We enjoy traveling and taking short spontaneous trips!".
Her post-high school education and certifications include: Bachelor of Education in Speech-Language Pathology from the University of West Georgia. Master of Education in Speech-Language Pathologist. Certificate of Clinical Competence (CCC), a nationally recognized professional credential that represents a level of excellence in the field of Speech-Language Pathology (CCC-SLP). State Licensure in Alabama and Georgia for Speech-Language Pathology. Teacher certification for Speech-Language Pathology.